Description
Con la funcionalidad de varios dispositivos y, sin embargo, la sencillez de uno, el escáner de red Fujitsu N7100 dispone de cualidades para adaptarse a empresas de cualquier tamaño y así mejorar los procesos empresariales.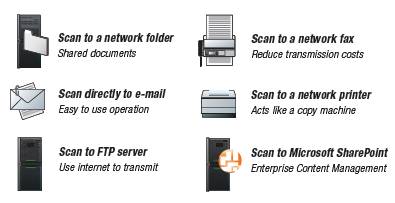 Idóneo para pequeñas y medianas empresas
Diseño que ocupa poco espacio
Funcionalidad multifunción para reducir los costes de hardware
Cuentas de usuario locales
Funcionamiento silencioso
Equipado con funciones de escaneado inteligente
Extraordinaria relación precio/rendimiento
Funcionalidad de oficina general
Gran velocidad de escaneado de 25 páginas por minuto y de doble cara de 50 imágenes por minuto en color, escala de grises o en blanco y negro de 300 ppp real
Alimentador de documentos de 50 páginas
Gran pantalla táctil de 8,4″ de alta resolución (1024 x 768 píxeles)
Escanee a correos electrónicos, a carpetas/FTP, a fax o impresoras de red o a las funciones de Microsoft SharePoint Server Enterprise 
*Versión de compatibilidad limitada para SharePoint*
Software de Scan Admin Central Server
Menú de trabajo basado en los inicios de sesión individuales de cada usuario para controlar la configuración y los destinos de los escaneos
Alta seguridad para proporcionar ayuda con el cumplimiento y las normativas
Kit de desarrollo de software y aplicaciones de terceros opcionales para la integración con los sistemas empresariales
¿Es el Scanner Fujitsu N7100 la mejor decision para su empresa? ¿Como escoger un scanner?
Description
Fujitsu N7100
Scanner type
ADF (Automatic Document Feeder), Duplex scanning
Scanning modes
Color, grayscale, monochrome, automatic (color / grayscale / monochrome detection)
Image sensor type
Color CIS x 2 (front x 1, back x 1)
Light source
3 Color LED (Red / Green / Blue)
Multi-feed detection
Supported (Standard) ultrasonic multi-feed defection sensor
Document
size
(1)
Normal mode
without
Carrier Sheet
A4, A5, A6, B5, B6, Business card, Post card, Letter, Legal and Custom sizes (Max: 216 x 355.6 mm (8.5 x 14.17 in.), Min: 50.8 x 50.8 mm (2 x2 in.)) Automatically recognizes document size
Normal mode
with
Carrier Sheet
Use of a Carrier Sheet permits the scanning of A3, B4, 11 x 17 in., and photographs as well as the documents sizes that are listed above
Long paper
scanning(Maximum)
3,048 mm (120 in.) (2)
Paper weight
(Thickness)
40 to 209 g/㎡ , or 11 to 56 lb (paper thickness 0.049 to 0.257 mm)

A8 size: 127 to 209 g/㎡ , 34 to 56 lb (paper thickness 0.157 to 0.257 mm)
Cards* can be used. (thickness 0.76 mm or less)
Embossed cards*: useable
* Landscape only

Scanning
speed
(A4 Portrait)(3)
Color
Simplex: 25 ppm (200, 300 dpi)
Duplex: 50 ipm (200, 300 dpi)
Grayscale
Monochrome
Paper chute capacity
50 sheets (Letter/A4, 80 g/㎡ or 20 lb) (Active loadable ADF)
Expected Daily Volume
4,000 pages
Optical resolution
600 dpi
Output
resolution(4)
Color (24-bit)
150 / 200 / 300 / 600 dpi
Grayscale (8-bit)
Monochrome (1-bit)
Output methods(5)

Save image data to network folder/FTP server
Send image data by E-mail
Print (Sends image data to printer server)
Send image data by FAX (Sends image data to FAX server in E-mail format)
Save image data to SharePoint portal server

Output file formats
PDF(Searchable / Password-protected / compressed / Marker Index processed), JPEG, TIFF(single / multi-page), page output in reverse order
Authentication (5)

User authentication:
Microsoft Active Directory or Open LDAP (for Solaris or Linux), Standalone authentication (6)
Folder authentication
Microsoft Active Directory or Open LDAP (for Solaris or Linux)

Network interface
10BASE-T, 100BASE-TX, 1000 BASE-T
Network protocols
TCP/IP(IPv4 / IPv6 (7) ), DNS, DHCP, SMTP, SMB, LDAP, NTP, FTP, HTTP, SNMP
Scanner Central Admin Server
Windows® 2003, 2008, 2008 R2, 2012, 2012 R2, 2016 Server required
Network Server Authentication
Windows® 2003, 2003 R2, 2008, 2008 R2, 2012, 2012 R2, 2016 Server or open LDAP
Power requirements
AC 100 to 240 V ±10%
Power consumption
Operating mode: 38 W or less
Sleep mode: 2.0 W or less
Auto Standby (off) mode: 1.0 W or less
Operating environment
Temperature: 5 to 35°C (41 to 95°F)
Relative humidity: 20 to 80% (Non-condensing)
Dimensions:Width X Depth X Height (8)
300 x 232 x 172 mm (11.8 x 9.1 x 6.8 in.)
Weight
6 kg or less (28.7 lb)
Environmental compatibility
ENERGY STAR® / RoHS
Display
LCD
8.4 inch XGA (1,024 x 768 pixels) TFT Color monitor
Touch panel
Analog resistive touch panel
Keyboard
Software keyboard
Scan A8 size documents with a paper thickness of 127 g/㎡
Scanning the document over 863mm in length is supported with output resolution 200dpi or below.
Actual scanning speeds are affected by data transmission and software processing times.
Maximum output resolution may vary upon scanning range. In addition, Carrier Sheet scanning supports scanning at resolutions of up to 300 dpi.
Please check System Requirements for details about the server types supported by N7100.
An authentication database is stored locally in the N7100. User information is registered into the database from the application User Editor. Only one authentication database can be configured in the scanner.
IPv6 function will be available by applying updates which will be available for download from Aug, 2015 (free of charge).


*Points of Attention regarding usage of IPv6:

N7100 has earned the IPv6 Ready Logo Phase-2 (CORE), approved by the IPv6 Ready Logo Program for testing conformance and interoperability among devices using IPv6.
IPv6 connection requires network devices that support IPv6. Please confirm IPv6 connection among your network devices and N7100 in the network environement in order to assign an IPv6 address to N7100.
Please use an IPv4 address of N7100 for connection with an FTP Proxy server, an NTP server, an SNMP server, or a Central Admin server. N7100 does not support the connections with those servers using IPv6 addresses.

Excluding the ADF paper chute and stacker.
Digitalice su empresa Ahora!